The Proxcys RCV's are state-of-the-art Resin Conditioning Vessels to be used in a cGMP pharmaceutical production environment. The vessels are designed to enhance slurry preparation, resin activation and buffer exchange or decanting of slurry by the speed-adjustable low-sheer stirrer and special sieve mesh. The RCV's prove to reduce operation time and directly contribute to the column packing result by gently suspending chromatography resins to a desired level. Integrating an RCV allows to simplify SOP, reducing risks and mistakes and so providing for safe and pleasant working environment. By default, the RCV already holds a large number of features, process connections, sensors and probes, but can be further customized in order to meet additional preferences and requirements.
Proxcys RCV's contribute to:
Significantly reducing preparation time
A better column packing result
Simplifying SOP and therefore reducing risks
Accurate mixing to optimal concentration
Integrated Tripod lifting system
For effortless maintenance, quick inspection, sieve replacement and manual cleaning, the self-supporting dome construction can be elevated. No external lifting equipment is required. Tripod operation as well as agitator and the bottom valve are operated via wired HMI or cabinet control.

The Proxcys tripod system design has set the benchmark for similar applications since it uniquely respects cleanroom requirements by lacking external lines, connections or other non-sanitary add-ons, hence the Proxcys design combines cleanroom compatibility with accuracy, reliability and operator safety.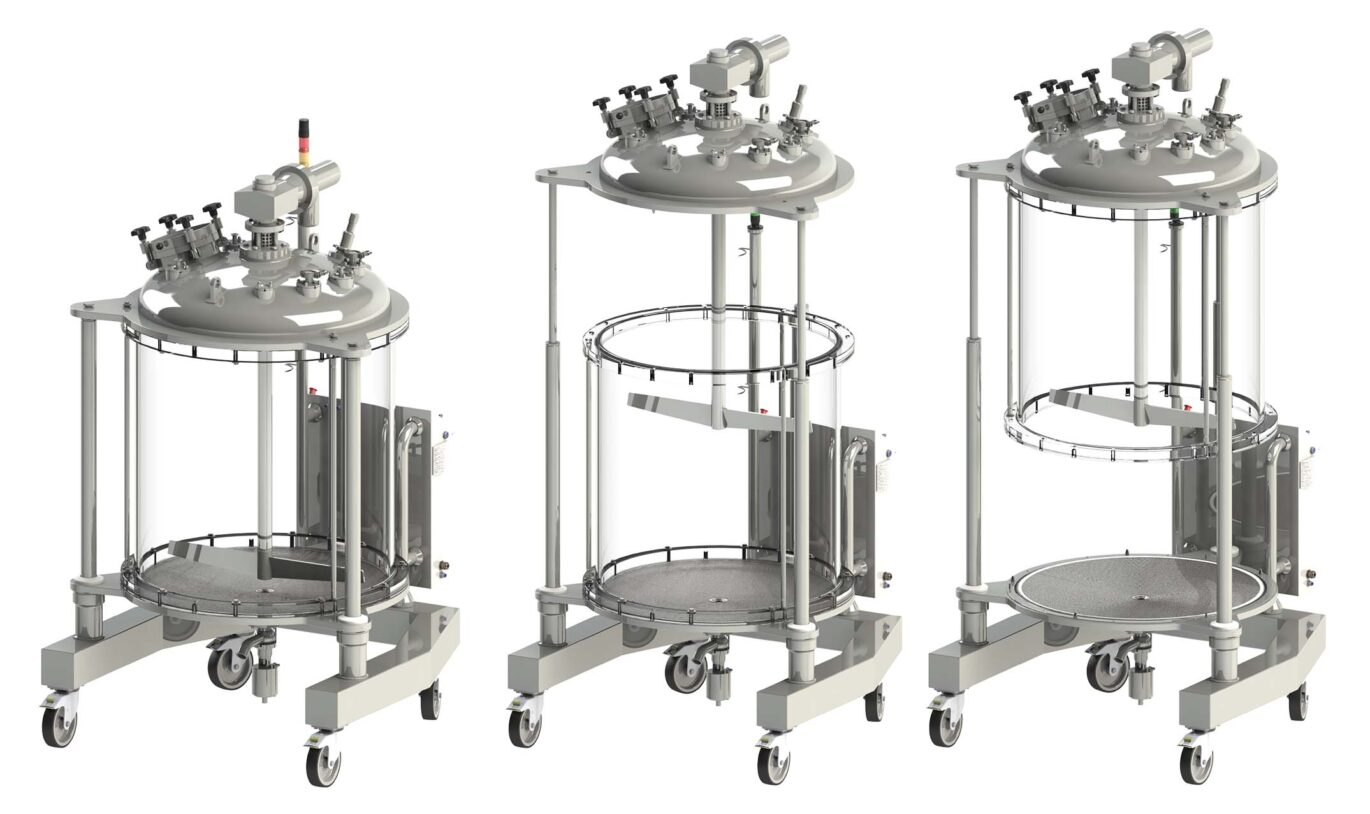 ---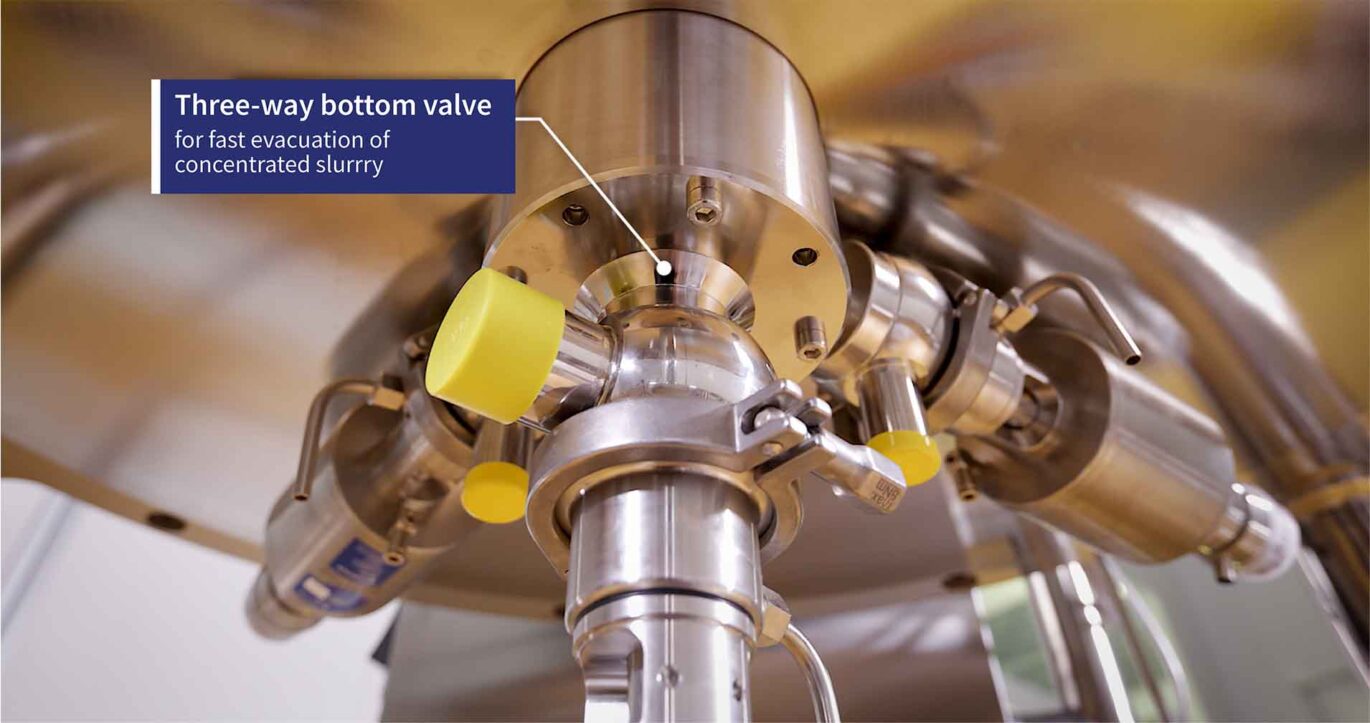 Axial bottom filter with three-way bottom valve
The vessel features a high definition porous stainless steel bottom filter. The bottom outlet is equipped with a custom three-way bottom valve that allows evacuation of the concentrated slurry into a neighboring vessel whilst uniquely featuring the ''floating-bed technology''. It enables concentrated resin retrieval out of the centered outlet valve, buffer retrieval from one of the satellite valves (exiting below the filter-surface) and creating an upstream-flow (e.g. buffer) from the second satellite valve to initiate the floating bed technology. Main valve is drain- and flushable via dedicated channel, to be manually connected via Tri-Clamp.
Trapezoidal or three-bladed stirrer
The vessel is generally equipped with a two-bladed trapezoidal stirrer for gentle resin treatment and homogenous mixing, alternatively a three bladed stirrer can be implemented. The stirrer blades are positioned just above the filter with wide span close to the vessel ID for most efficient mixing and allowing a minimal working volume, whilst stirrer is fully submerged.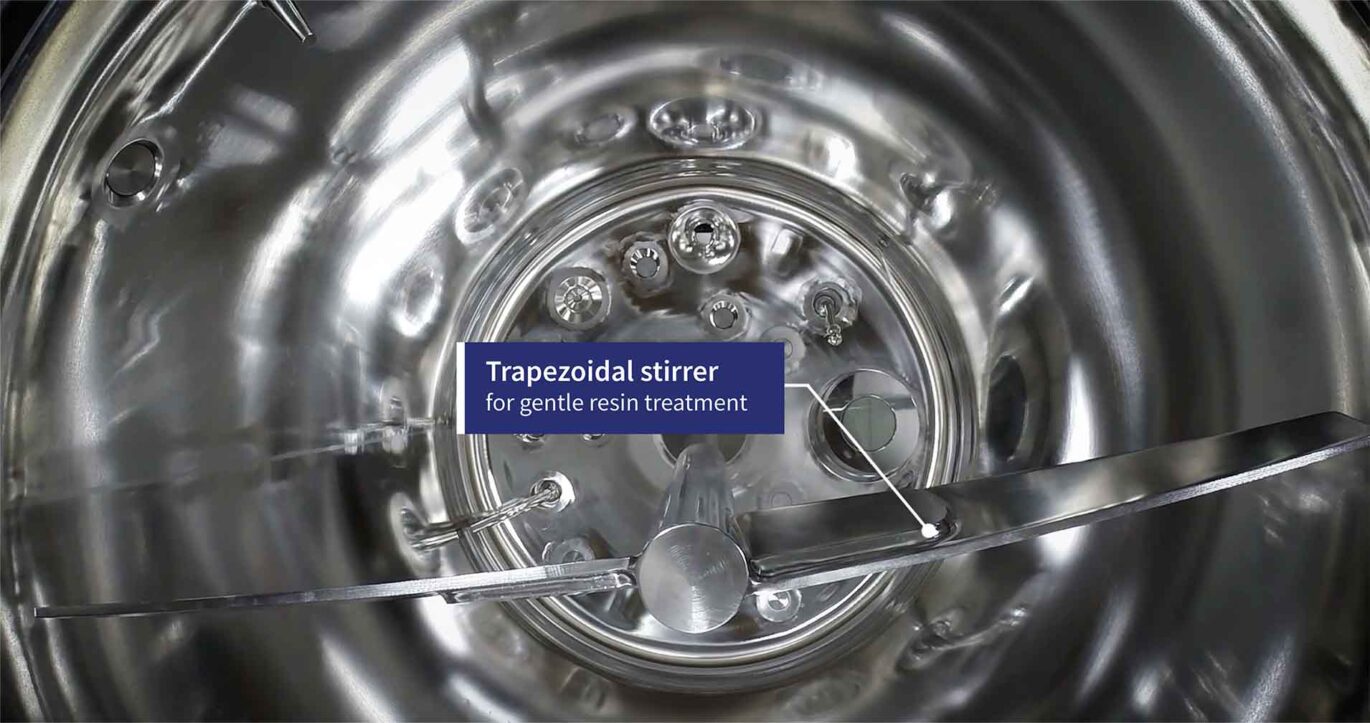 ---
RCV's are mostly manufactured from stainless steel e.g. 316L (1.4404, 1.4435) or 904L (1.4539) and alternatively from Acrylic (USP Class VI), enabling continuous process monitoring. RCV's are available in multiple volumes and dimensions, starting at lab scale (~10L) up to full industrial process scale (~1,500L and up).
The Proxcys RCV is a state-of-the-art Resin conditioning vessel, featuring:
The integrated Tripod lifting system (optional)
Homogenously mixed slurry preparation for reproducible column packing
Multiple inlets top and bottom to facilitate concentrated slurry extraction
Fast liquid draining by the large surface, high porosity mesh
Special design mesh to prevent remaining bead-residue
Powerful low-rev mixer with adjustable velocity
Sprinkler system to wash the wall with minimal dilution
Concentrated floating bed technology