Company growth
It all began with an idea, lots of testing and innovative thinking. At the start of Proxcys in 2003, Mr. drs. Marcel Raedts (Founder and CEO) launched the first Proxcys process column onto the market from his garage in the Rietlanden (40 m²). Ever since the first product launch, many new, innovative products were added to the portfolio and Proxcys expanded its column-range to also offer pre-packed and pre-validated columns.
In 2004 Proxcys announced to move to a larger location (100 m²) in Noord-Barge, offering more office-space and room for testing. Proxcys continued to grow and innovate, which resulted in the relocation into a 250 m² office-facility after another couple of years (2018). A few successful years later, Proxcys moved into the 1.000 m² building at the Bedrijvenweg in Nieuw-Amsterdam in 2010, with six employees. The facility at the Bedrijvenweg provided sufficient office-space, as well as room for assembly, testing, storage and laboratory-space.
Because of the continuous growth from 2010 onwards, Proxcys decided a long-term solution was needed and thus the search for a suitable new business location commenced in 2018. After an extensive search, the current location in Emmen was selected, purchased and completely renovated. In July 2020 we relocated into this 3.000 m² facility in Emmen, where we have established our brand-new spacious offices, cleanrooms, fully equipped laboratory, warehouse, learning center and toolshop. Today, 2021, Marcel Raedts is still the driving force of Proxcys and the number of employees has increased to over 30 (and counting!).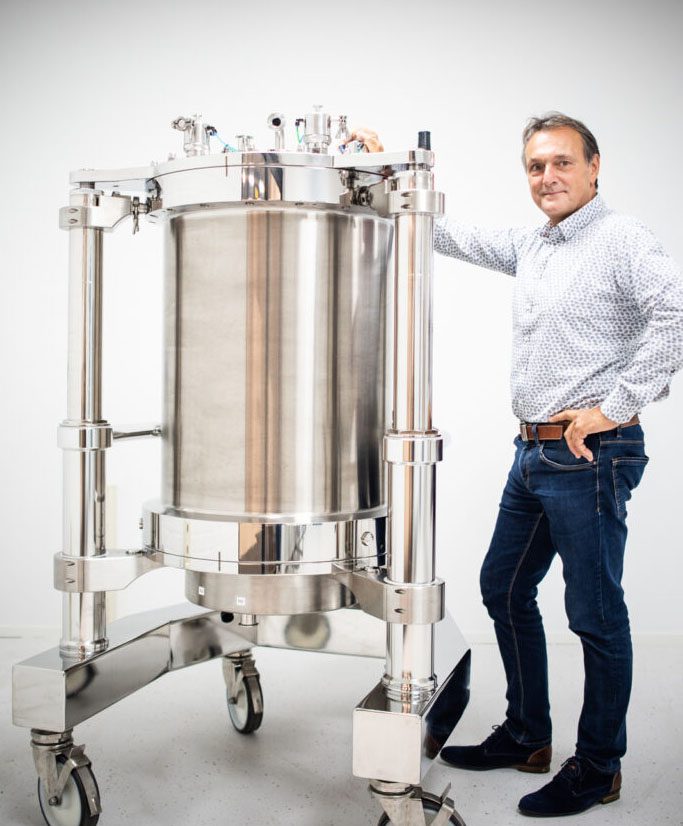 Proxcys is looking forward to continuing this growth and innovation and supporting you as a strong partner for the future.
More information about Proxcys can be found on the company page.
Product development
Late 80's, human blood plasma industry was amongst the first to embrace RFC (Radial Flow Chromatography). Plasma-protein therapeutics are moderately priced bio-therapeutics when compared to modern recombinant biopharmaceuticals. Hence, smallest footprint to reduce cleanroom size, industrial robustness, separation performance, high throughput yet gentle processing and facilitated pump-packing are fundamental to a low operating cost level that were desirable attributes required by this industry. To date many of the plasma fractionation sites deploy production-size radial columns starting at 30-liter bed volume up to the current largest, Tripod 600-liter columns.
2009, Proxcys was the first to offer complete GMP-compliant trend-view of packing flow and pressure monitoring enabling process control, linking solid packing data to chromatographic performance and recordkeeping for absolute traceability and reproducibility. Automation is supplemented with a variety of packing modes getting the best out of each adsorbent, soft or rigid.
In the last few years another unique property of the Proxcys HP-RFC was confirmed: Processing crude feed cell culture by packed bed chromatography. High density hybridoma/CHO cell-culture is processed without clarification with the ease of normal capture chromatography. Recently, even successfully deployed in BioSMB mode.
In short, Proxcys HP-RFC has meanwhile evolved into a powerful versatile tool for the purification of protein. A genuine "Blue-Ocean" technology. Check out our product overview for all Proxcys products.