Strongly increased yield in mAb production by eliminating Unit-operation!
cTRAC is a technique that massively reduces the time for purifying biomolecules, resulting in decreased cost and increased yield. It allows the purification of biomolecules directly form the bioreactor without first having to clarify the feed stream. Product conventionally lost during clarification steps can now be purified.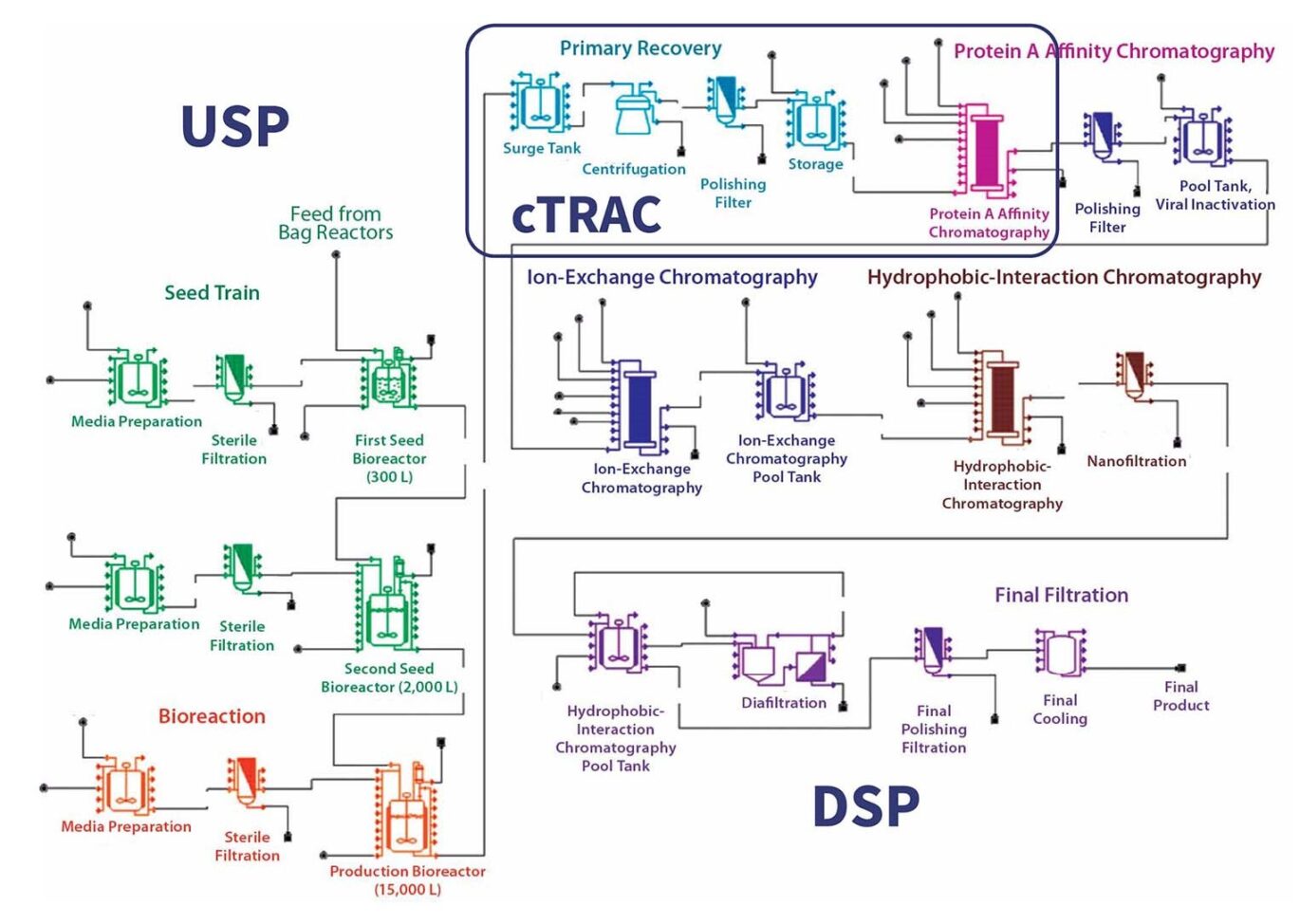 By applying cell Tolerant Radial Affinity Chromatography (cTRAC) as a link between Upstream (USP) and Downstream (DSP), clarification losses are avoided and the net process yield of monoclonal Antibody (mAb) increases by about 10%. Ten percent seems small, but because of the enormously valuable mAb, the impact is significant.
In Fig. 1., the schematic of a generally applied 'platform production process' for the batch production of therapeutic antibodies (mAb) from Chinese Hamster Ovarian (CHO) cells is shown. A proven setup that is also used for other recombinant products from various cell lines. With the application of cTRAC-ProteinA, clarification is omitted (framed in blue in Fig.1). While maintaining the selectivity of these affinity media, the process step is assimilated into one ProteinA capture step directly from the cell culture.
The "heart" of the mAb purification process is the highly selective affinity binding of mAb to ProteinA, which purifies the mAb to >95% in one step. Follow-up steps remove host protein (Host-Cell-Protein or HCP), virus and IgG aggregates to a purity of >99%. During "primary recovery", the clarification step between USP and DSP, an "accepted" loss of mAb of 10 – 15% occurs. Due to the costly mAb a huge loss of yield! Omitting this clarification step makes the process not only cheaper but also more sustainable, among others by eliminating hefty "single-use" filter installations.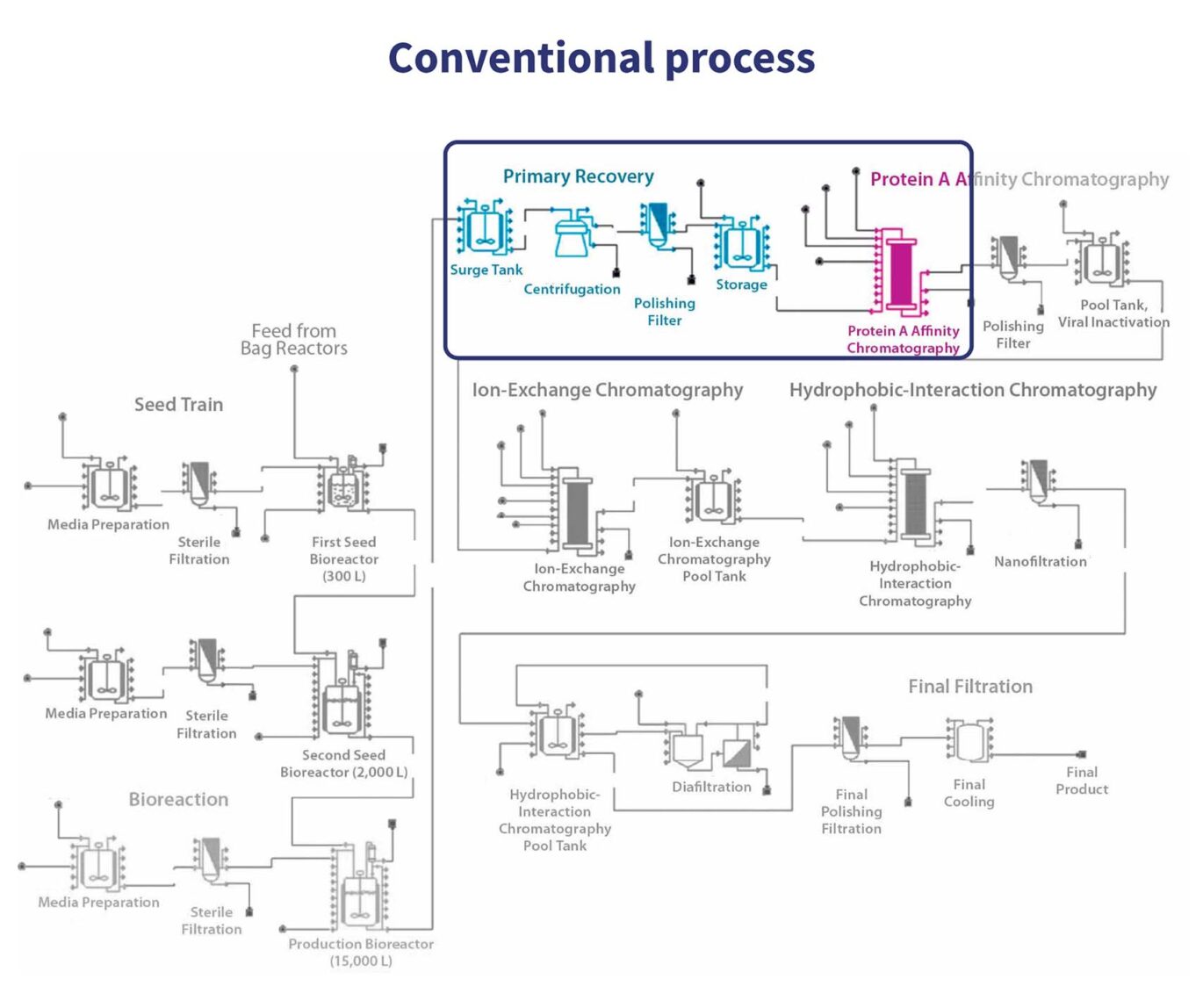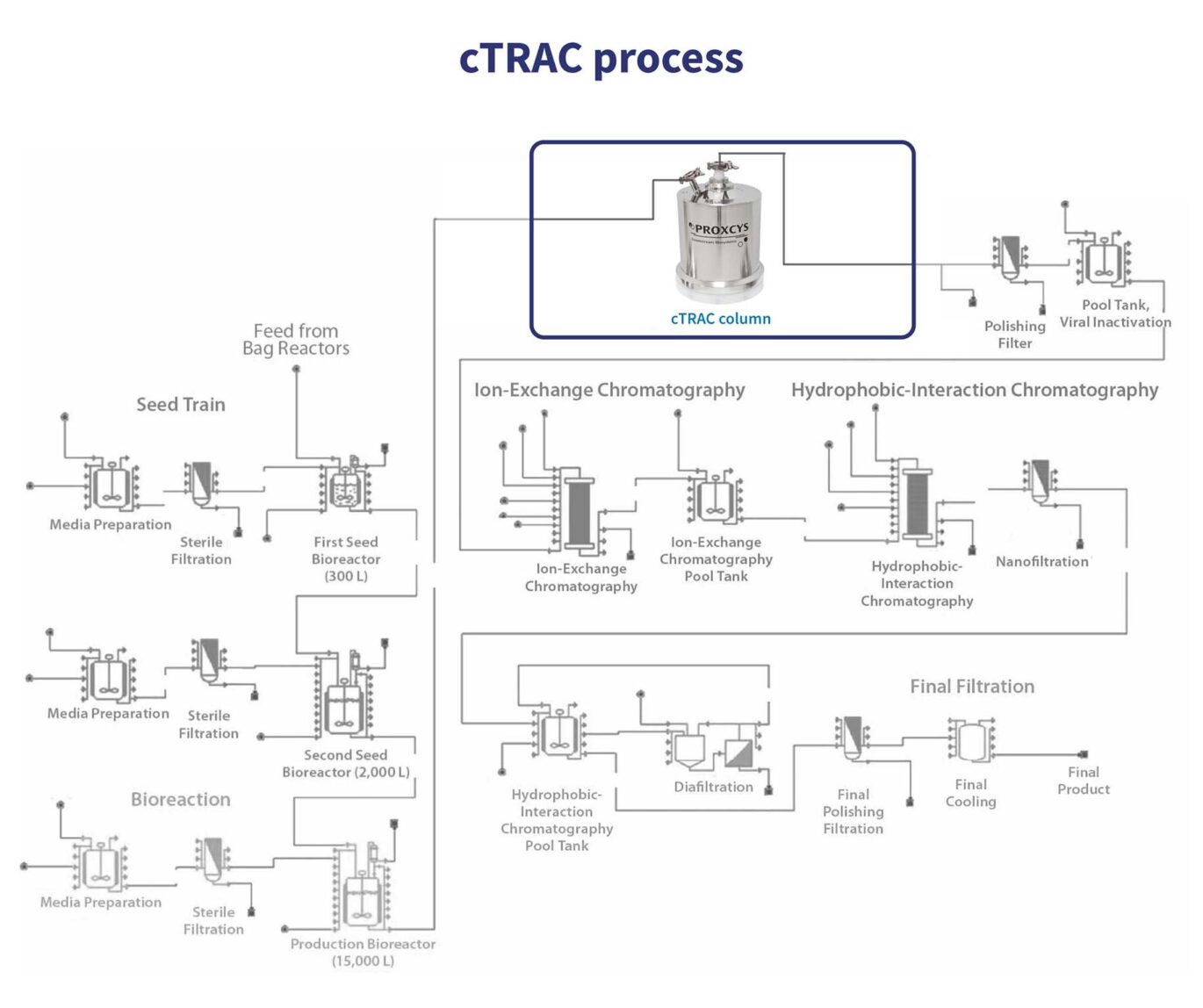 For more information on cTRAC, please review the article featured in BiotechNEWS & Life Science magazine below.
---
Lab cTRAC
The mild- and low-pressure application allows for very rapid and trouble-free isolation of mAb from a small pilot cell culture even with a syringe. Obviously, this can also be done with a small peristaltic pump. The cTRAC technology is available via the starter kit now!
cTRAC columns are linear scalable to tens of liters of column volume. Because cTRAC processing is robust and gentle, it also proves to perform excellently in BioSMB mode. At 3 to 5 columns connected in series, with a total bed height of 27cm to 45cm, flowthrough is uniform and viability above 90% (very low cell damage).
Starter kit
Complete column set to see how cTRAC Radial Flow Chromatography columns can improve your process. The cTRAC starter kit contains:
Pre-packed cTRAC column 8ml; ready to use
Syringe for manual application
Quick Guide and Packing report
Fitting set
The column comes pre-packed, selected resins available. Contact our team for the possibilities.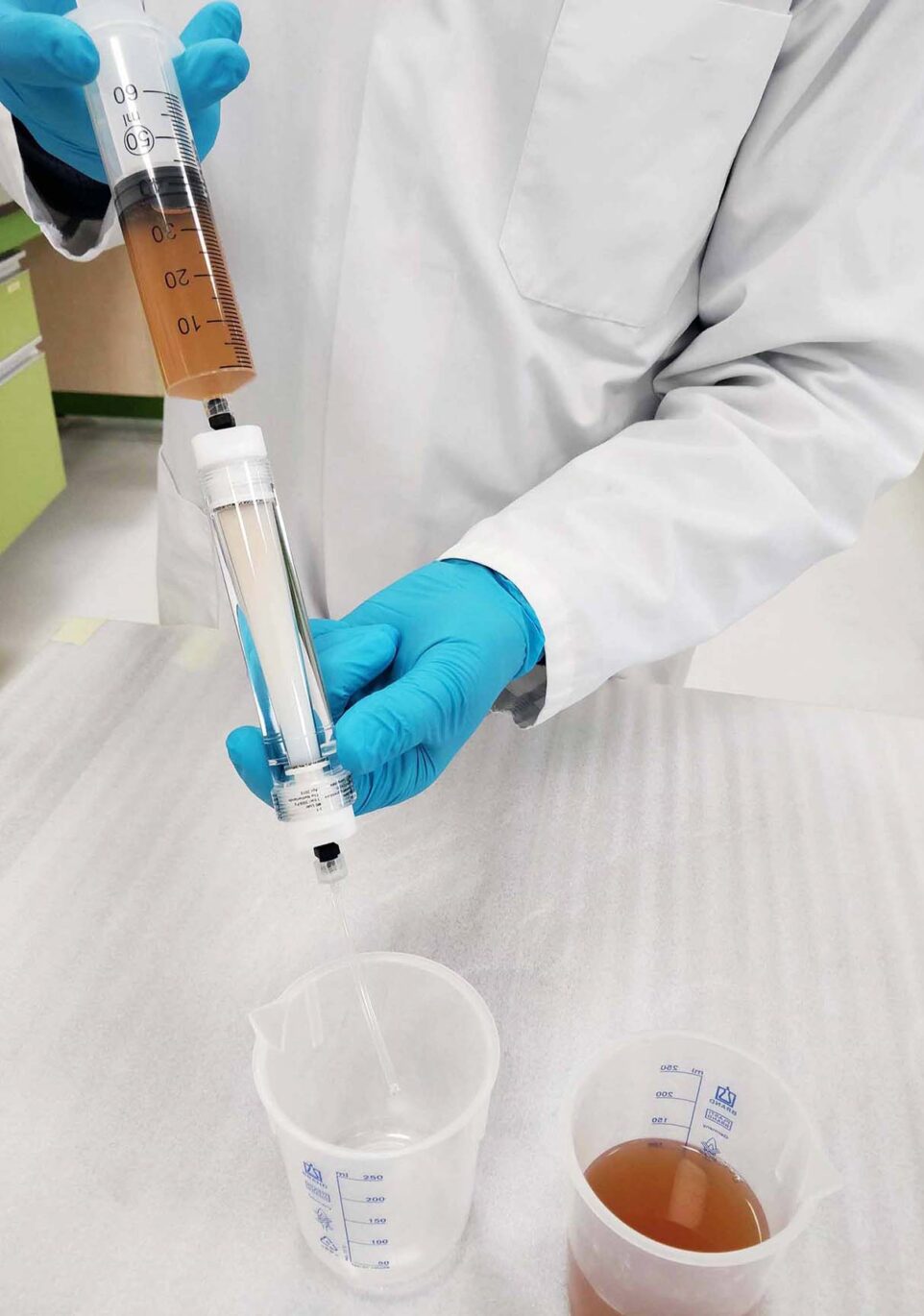 Apply for the cTRAC starter kit or cTRAC poster via the form below.