Radial Flow Chomatography (RFC) is an efficient, low pressure technology for various Bioprocessing purposes. Thanks to the specific column geometry, RFC is very suitable for high throughput adsorptive separations in process, pilot and lab scale. The short bed height, packed bed, allows robust adsorptive separations from crude feed (large dirt tolerance).
Proxcys process columns are characterized by their small footprint and ability to process high volumes at low pressure. Process columns can be operated in a small cleanroom, provide a cost effective solution and are available from 30L to 2500L.

Comparison Axial to Radial columns
In comparison to axial columns, radial columns with short bed height are very efficient in space and weight demand at larger scale. To be able to reduce column width for axial columns, they mostly operate at a maximized bed height of 20cm. For radial columns this limiting factor does not exist. This means that for radial columns the throughput will be higher, the process duration shorter and the operating pressure lower. For the same linear velocity, the flow-rate is much higher.

Radial column processing features a dramatic reduction of footprint. Packing a HP-RFC column even with the shortest bed height is very fast, better manageable and uniform.
RFC equipment is 75% lighter and 80% more compact than axial equipment.
The transition from Axial to Radial is essentially folding a horizontal bed into a vertical cylinder changing mainly the direction of flow from vertical to horizontal. Bed height and chromatographic properties remain the same while the footprint and weight reduce dramatically. Click here for more information about the transfer from Axial to Radial.
Benefits at Radial processing
Faster chromatography (Lower delta P)
Compact high performance columns
Wide variety of applications
Compatible with all resins
Linear scalable
Easy, rapid, consistent slurry packing and unpacking
Easy process transfer axial to radial using LV
Highest throughput per m2
CAPEX for industrial scale is significantly lower
Radial columns excel in throughput and performance at short bed-height, making HP-RFC exceptional suitable for various industrial applications in, such as;
| Human Plasma Fractionation industry – Gentle, rapid, cost conscious processing.
| Recombinant Biopharma Products – Rapid development, rapid scale-up, safe and robust.
| Food and beverage industry – Robust and cost conscious processing.
| Generic and transgenics – Easy, linear scalable to industrial size.
Working principle
RFC is an assembly of two concentric filter cylinders between which the chromatographic sorbent is packed (packed bed). The radial distance between the inner- and outer- filter/cylinders is the chromatographic bed height. The liquid (mobile phase) enters the column via the off-center inlet port, and is distributed by the distribution plate around the Outer filter. The liquid permeates through the packed bed packed bed (stationary phase) from Outer Filter to Inner Filter. The permeate is recollected around the Core before it exits the column through the center Process Outlet.
Due to ingenious design the HP-RFC column can be operated at extremely high flow rates offering high throughput, low operating pressures and excellent performance with minimal stress to the biologic compound separated.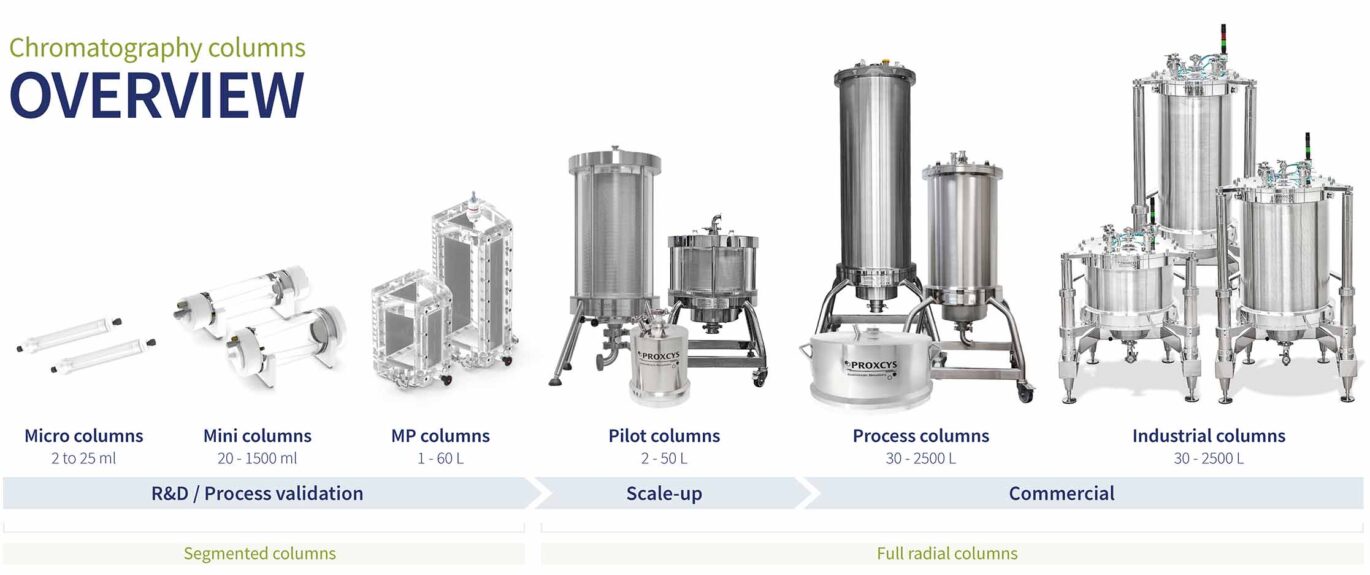 Proxcys is proud to have built a large international customer base. Radial Flow Chromatography is an established technology. The first Proxcys process column was put into use in 2003. Since then many new products have been added and we have expanded our column range to include pre-packed and pre-validated columns. The companies below are valued long term clients with our HP-RFC process equipment in routine production.