Stirrer lifting system
The Proxcys Stirrer Lifting System (SLS) is purpose-designed for the Batch Chromatography Columns (BCC), and is operated safe and intuitively via two buttons (introducing two-hand-control). With the SLS, the stirrer is lifted effortlessly out of the chromatography bed, prior to e.g. the gel-settling- and -elution steps, or for maintenance purposes. Lifting the stirrer from start-position to fully lifted, takes about 10 seconds.
The SLS is designed to lift the stirrer safe and effortlessly out of the bed during process (e.g. gel-settling or elution-steps) and maintenance (e.g. CIP, cleaning). Depending on process-requirements, the SLS can be designed to also stir in multiple elevated positions, which enables the column to be deployed for multiple processes and different working volumes.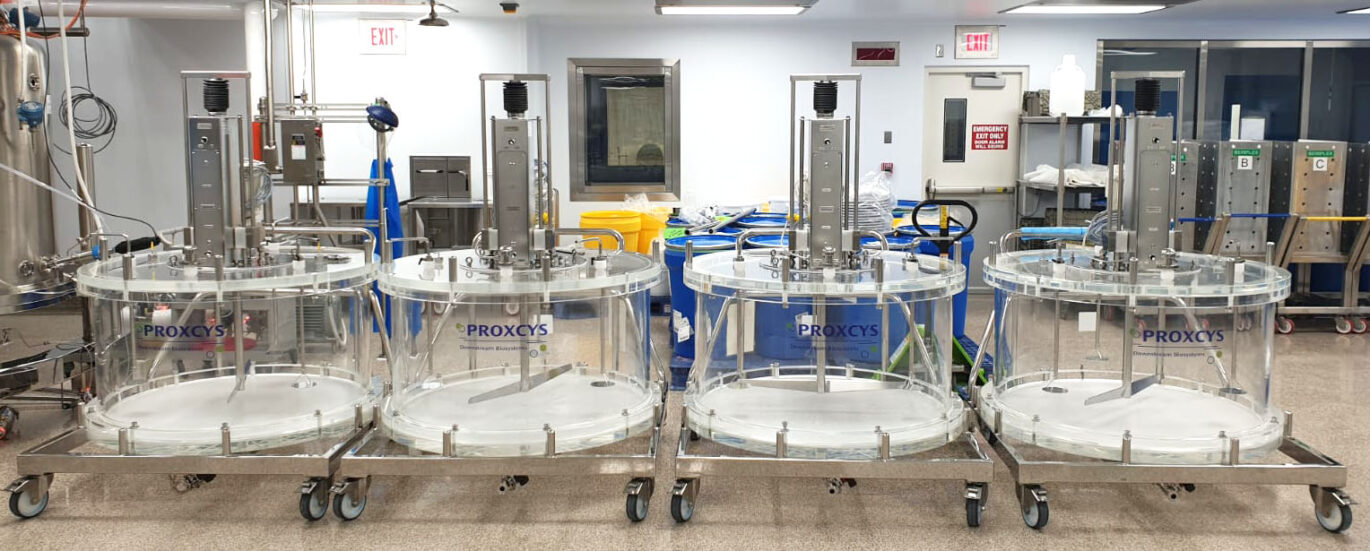 BCC 2D Radial – Unique vessel design offering axial and radial filtration
This BCC 2D Radial (shown) is a fully-equipped, state-of-the-art Batch Chromatography column, equipped with an axial bottom filter, as well as a radial filter offering the largest filter surface possible whilst maintaining a small footprint. This large filter surface area enables faster processing (highest flowrates), without the risk of blockage or product-damage.
The integrated Tripod lifting system is designed to effortlessly open/close the column for maintenance- and inspection purposes, as well as lifting the stirrer, without facility hoist equipment.
3x Larger effective free filter area
Excellent mixing efficiency & distribution
Thorough cleaning by CIP – sprayballs
Customization possible
Suitable for pharmaceutical environments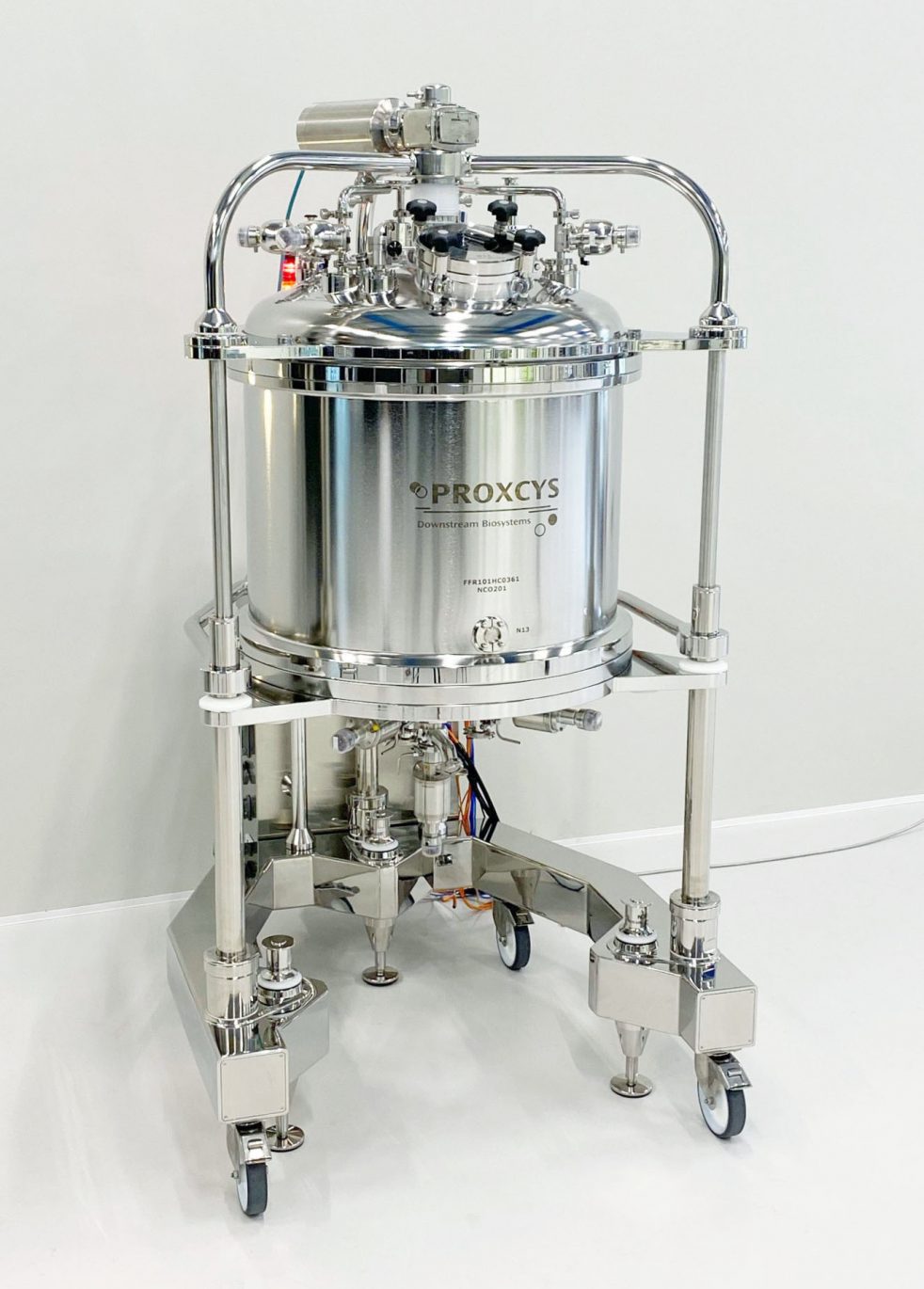 Integrated Tripod lifting system
The Proxcys Tripod System design has set the benchmark for similar applications since it uniquely respects clean-room requirements by lacking external lines, connections or other non-sanitary add-ons, hence the Proxcys design combines cleanroom compatibility with accuracy, reliability and operator safety.
For effortless maintenance, sieve replacement and manual cleaning, the self-supporting dome construction can be elevated. The Tripod is also able to lift the entire filled vessel, for gravity-draining and better accessibility and ergonomics.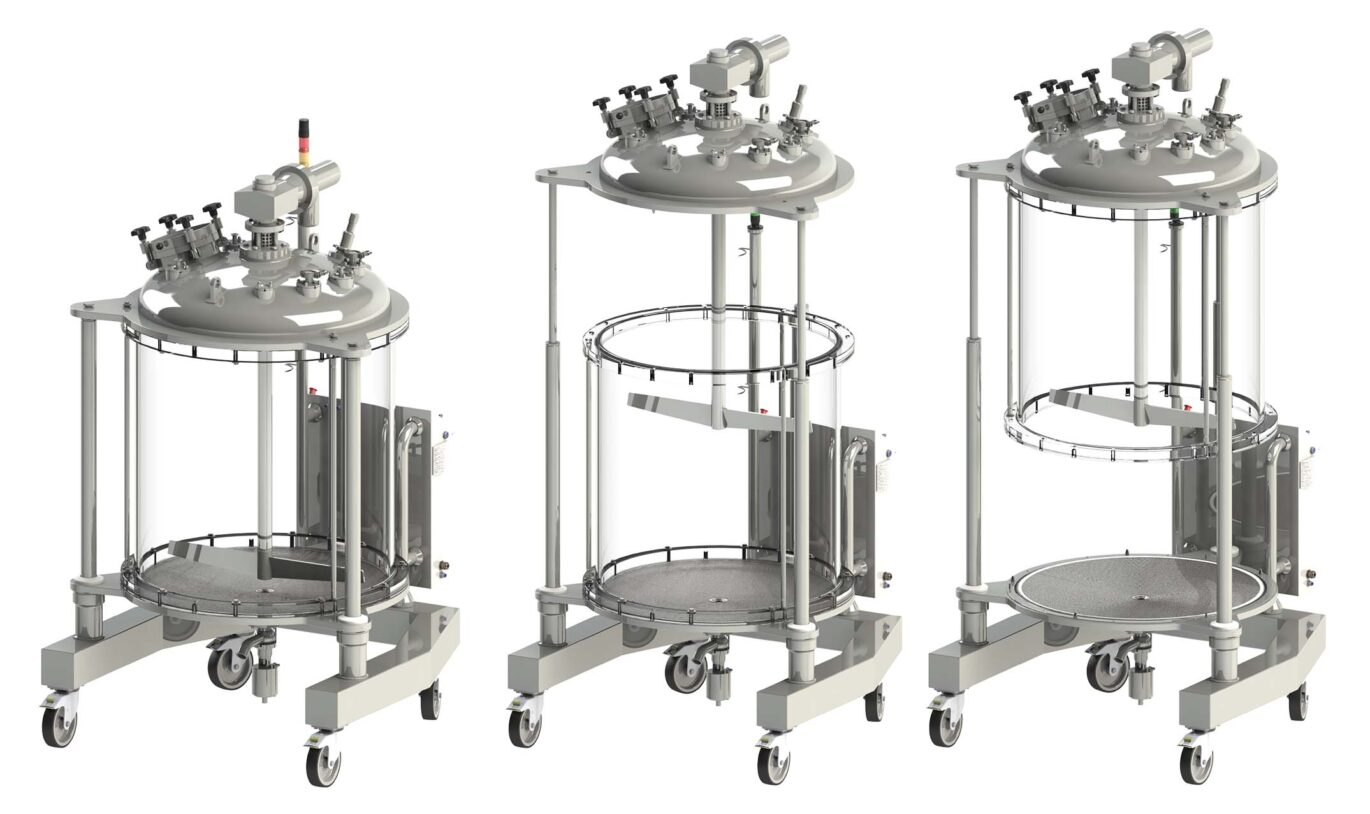 ---
BCC600
Serie of 5 Batch Chromatography Columns (BCC600), equipped with among others Proxcys proprietary Tripod Frame, Stirrer-lifter, large axial bottom-sieve and multi-functional customized valve-blocks, uniquely designed for full process-automation.
---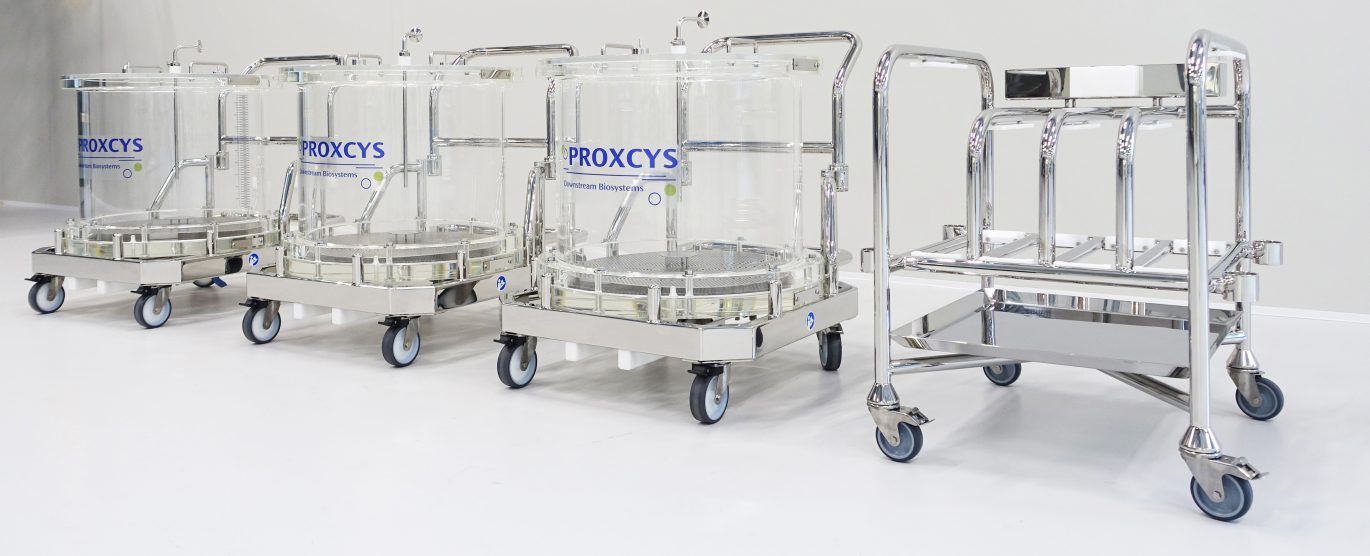 BCC200
200L Batch Chromatography Columns (cGMP) designed for use in an ion-exchange chromatography production process.
Understanding the clients' SOP's, Proxcys custom designed a component trolley to temporarily store parts, simplifying usage, daily disassembly and cleaning.